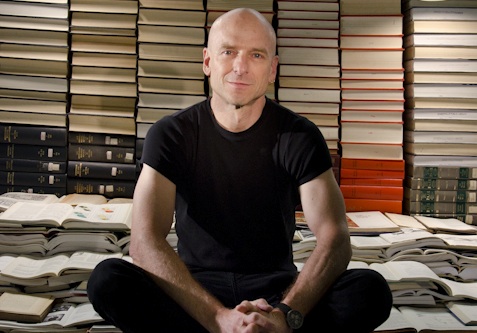 Seminar with Jeffrey Schnapp, professor of Romance Languages and director of metaLAB at Harvard University, on Digital Humanities and Knowledge Design in the Post-Print Era.
WHERE: Janskerkhof 13, 006, Utrecht
WHEN: 27 May
TIME: 17.00 hrs.
SPONSORS: NWO VIDI-project Back to the Book; Focus area CCHR; Comparative Literature Utrecht University
Professor Jeffrey Schnapp will present on the latest developments in the field of the digital humanities and knowledge design in the digital era. Which new formats are now being developed for scholarly books? What will the library of the future possibly look like and what does this mean for humanities research? The seminar will broadly examine new models of how scholarly knowledge is being produced and shaped in the arts and humanities today, with particular attention devoted to emerging genres and conventions, to the re-imagining and redesigning of scholarly books, and to ongoing experiments with print-plus and post-print approaches to publishing.
 
Before moving permanently to Harvard in 2011, Jeffrey T. Schnapp occupied the Pierotti Chair of Italian Studies at Stanford, where he founded the Stanford Humanities Lab in 1999.

A cultural historian with research interests extending from antiquity to the present, his most recent books are The Electric Information Age Book (in collaboration with Adam Michaels [Princeton Architectural Press, 2012]); Italiamerica II (Il Saggiatore, 2012), co-edited with Emanuela Scarpellini; Modernitalia (Peter Lang), a collection of essays on 20th century Italian literature, design, and architecture; and Digital_Humanities (MIT Press), a book co-written with Anne Burdick, Johanna Drucker, Peter Lunenfeld, and Todd Presner.

Forthcoming with Harvard University Press in the spring of 2014 is The Library Beyond the Book, a book co-authored with his metaLAB colleague Matthew Battles that explores future scenarios for libraries in the digital age. (Other current or future projects are described under the In the Works tab of this website).

His work in the domains of design, digital arts and humanities, and curatorial practice includes collaborations with the Triennale di Milano, the Cantor Center for the Visual Arts, the Wolfsonian-FIU, and the Canadian Center for Architecture. His Trento Tunnels project—a 6000 sq. meter pair of highway tunnels in Northern Italy repurposed as a history museum—was featured in the Italian pavilion of the 2010 Venice Biennale of Architecture and at the MAXXI in Rome in RE-CYCLE. Strategie per la casa la città e il pianeta (fall-winter 2011). Panorama of the Cold War, a collaboration with Elisabetta Terragni (Studio Terragni Architetti) and Daniele Ledda (XY comm), was exhibited in the Albanian Pavilion of the 2012 Venice Biennale of Architecture and is currently on exhibit in Erasmus Effect – Architetti italiani all'estero / Italian Architects Abroad at the MAXXI in Rome (Dec. 2013-April 2014). He is also the chief consulting curator for BZ '18-'45, a new documentation center built under Marcello Piacentini's Monument to Victory in Bolzano/Bozen, scheduled to open to the public on May 30, 2014.

Faculty co-director of the Berkman Center for Internet and Society, he is Professor of Romance Languages & Literature and also on the teaching faculty in the Department of Architecture at Harvard's Graduate School of Design.

He is the faculty director of metaLAB (at) Harvard.

More information on Jeffrey Schnapp can be found at his website.