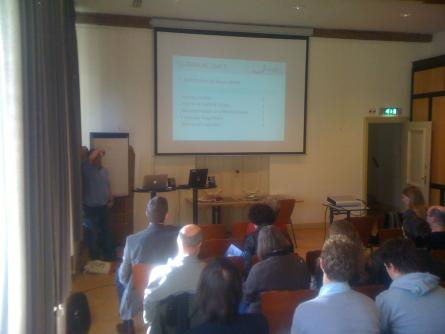 Thursday, August 30, 2012 -

12:00

to

15:00
On August 30, 2012 CLARIN-NL organizes an information session on Call 4. If you are considering submitting a project proposal in Call 4, it is a good idea to attend this meeting. Members of the Executive Board will provide general information about CLARIN-NL. Moreover, they will present you with the do's and don'ts for writing a project proposal. Running and finished projects will share their experiences. The information session also gives the opportunity to meet people who can help you with the writing process or with finding experts, project partners or the right contact persons for the CLARIN Centres.
More information about Call 4 can be found here.
Attendance is free, but registration is required. The registration period has been extended to August 27th! Register here.
.
Program
(the meeting will be in Dutch)
| Tijd | Titel | Spreker |
| --- | --- | --- |
| 14.00-14.30 | Welcome with coffee and tea |   |
| 14.30-14.40 | Introduction | Hans Bennis |
| 14.40-14.50 | eHumanities within the KNAW [pptx] | Sally Wyatt |
| 14.50-15.20 | CLARIN-NL and Call 4 [pptx] | Jan Odijk |
| 15.20-15.40 | TTNWW [pptx] | Marc Kemps-Snijders |
| 15.40-16.00 | Break with 6 CLARIN movies |   |
| 16.00-16.15 | ISOcat [pptx] | Ineke Schuurman |
| 16.15-16.30 | NEHOL [pptx] | Robbert van Sluis |
| 16.30-16.45 | C-DSD [pptx] | Martine de Bruin |
| 16.45-17.00 | VK [pptx] | Johan van Doornik & Victor de Boer |
| 17:00- | Drinks |   |
Address
Attachments